All profits go directly to Lincoln Central Neighborhood Family Center benefiting those in need
Select an Advertising Tier & Fill Out The Application
Frequently Asked Questions
How many times does the Preshow play per month?
---
The YES Cinema Preshow plays 100+ times a month on average.
---
How many times will my advertisment play per movie?
---
Your ad will play twice per movie. The Preshow is 15 minutes long and reapeats itself within a 30 minute window prior to the movie starting.
---
Is there a certain spot in the Preshow that my add will goes or is it random each time?
---
Your ad will be a part of the 15 minute preshow. The 15 second slide ads are grouped together and play between video commercial ads.
---
What does the menu monitor item look like?
---
The monitor is a large tv is located in the lobby above the entrance to the theater as seen in the video below.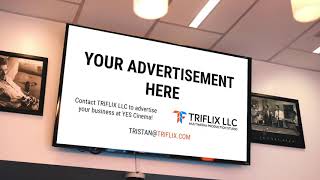 ---
Is YES Cinema a non for profit?
---
Yes, YES Cinema is a 501c3 non for profit. Take advantage of those tax deductions!
---
Who handles the billing, YES Cinema or TRIFLIX LLC?
---
All billing will be between you and YES Cinema. TRIFLIX is simply an account manager/media company that helps with advertising and Preshows. Please direct all billing questions to yescinemaevents@gmail.com
---
What is TRIFLIX LLC?
---
We are a Creative Multimedia Production Studio specializing in video, photo, website, graphics, podcasting, and marketing; based out of Columbus, Indiana. Feel free to browse the website and see what if we can be of service to you and your company!
---
---